Australian Online Roller Shutters Brisbane
Roller shutters are a great addition to any property. Add security, protection and insulation to your home or business and stay safe and comfortable all year round with a set of high-quality roller shutters from Australian Online Roller Shutters Brisbane. Get durable roller shutters at competitive prices from the leading online roller shutter store. We offer delivery anywhere in Brisbane and Australia wide. Order online today!
OZRoll Roller Shutters
Australian Online Roller Shutters are the proud provider of OZRoll roller shutters. Manufactured in Australia, OZRoll shutters are made with high quality materials and designed to stand the test of time. Through rigorous testing, these shutters can handle the elements with ease and can last for years, protecting your windows and your home. We offer great prices on a range of OZRoll roller shutters, including:
Domestic Shutters
Our domestic shutters are designed to provide entry level protection for your property. They're excellent for insulation and weather protection, protecting your property from rain, light hail and sunshine. Aluminium roller shutters can reduce your heating and cooling energy use and bill by up to 45%, simply by maintaining the temperature of your property.
Commercial Roller Shutters
Designed for storefronts, our commercial shutters can cover spaces of up to 10.8 meters squared. They are ideal for business or homes with large windows. They can cover both windows and doors.
Cyclone Roller Shutters Brisbane
If you live in an area at risk of cyclone damage, our cyclone roller shutters will improve your home's protection against strong winds and light debris. They are stronger and denser than our other options, measuring up to Australian cyclone protection standards AS / NZS 1170.2 – 2002, and The Australian Standard AS 4040. 3 – 1992.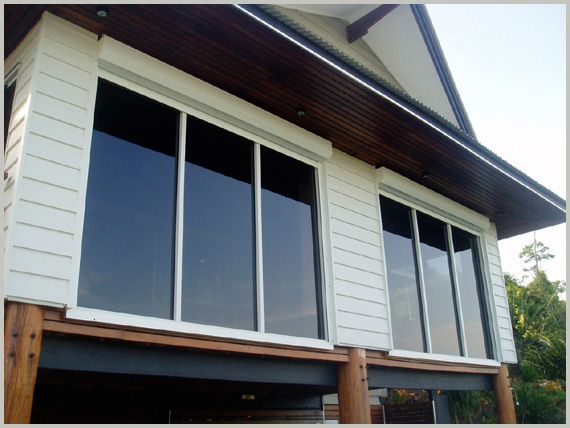 Security/Bushfire Shutters
Our most durable roller shutters, the security/bushfire shutter is designed to protect against experienced criminals as well as bushfires. Designed with thicker, denser and stronger materials, they are excellent at protecting against both heat and impact damage. Testing has given them a Bushfire Bushfire Attack Level protection rating of 40, the second highest in their class. They provide the highest level of protection for your property.
Buy Roller Shutters Brisbane Online
Order roller shutters for your home or business today and save money with Australian Online Roller Shutters Brisbane. All our shutters come in a range of colours and are made to order to meet your needs exactly. If you're not sure which shutters are right for you, our team are always happy to help! Order online today or call us on 0400 575 436 for more information.